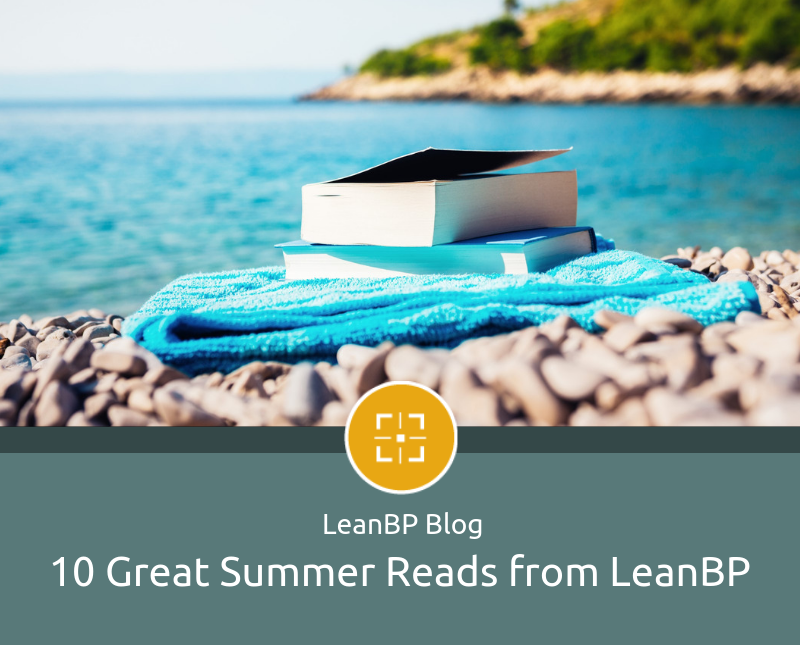 July and December are slow months for training, so that's when I take the time to dive deeper into my course materials and take stock of the learning that has been most valuable to me.
It's important not to implement process improvement just for the sake of doing it—the what and the why should be most important. That's because lean takes time and motivation if you're going to persevere. These books were instrumental to me as I created my strategy for successful lean implementation—and they've given me the greatest personal ROI. I don't know if all of them qualify as light beach reading, but in the spirit of summer, here's my top 10 list of great lean reads!
1) The 7 Habits of Highly Effective People: Powerful Lessons in Personal Change by Stephen R. Covey
As much as I love to help my clients, I like to apply process improvement to myself in my day-to-day routine. Not only to be efficient—faster, and with fewer non-value-added steps in what I do—but to also be effective, meaning I'm always pointed in the right direction. No book has articulated that better or affected me more than this one. The first habit is "Be Proactive," and a major lesson is that you have a circle of influence and you should always work within it. It's the best and only place to start.
2) 12 Rules for Life: An Antidote to Chaos by Jordan B. Peterson
Just finished this outstanding book by clinical psychologist Jordan Peterson. It's an even deeper dive into universal principles for success, bolstered by Peterson's academic research. I think of this as the Old Testament of personal effectiveness compared to Covey's New Testament approach. Why? Read both and see what you think!
3) The Simple Leader: Personal and Professional Leadership at the Nexus of Lean and Zen by Kevin L. Meyer
A highly inspiring examination of how lean and purposeful living create synergy. It's worth reading and re-reading.
4) The Goal: A Process of Ongoing Improvement or Critical Chain by Eliyahu M. Goldratt
A competitive advantage in applying lean is the understanding of the Theory of Constraints, a five-step process for improvement. The concept is that in any process there's only one constraint at a time, and you should focus your improvement efforts there and repeat until you meet your goals—and you may eventually discover that your constraint is your goal (or lack thereof). Goldratt, who originally articulated the Theory of Constraints, explains this best in his books. If your business is physical processes (manufacturing), choose the first book; if you do knowledge work, choose the second, where he writes about product development. Both books are written in novel form and are great as audio books.
5 and 6) Epiphanized and Focus and Leverage by Bob Sproull and Bruce Nelson
Once you've read the Goldratt book that applies to you, these two more recent novels expand on the same ideas and make for extremely interesting, fast-paced reading.
7) Certain to Win: The Strategy of John Boyd, Applied to Business by Chet Richards
Although I've read the giants Kaplan and Porter on strategy, my true epiphany on this topic came from this book. Based on Air Force Colonel John Boyd's aircraft dog-fighting strategy, the concept is that strategy is a decision-making cycle, and that speed and iteration are important. Strategy should not be a like a chess match, where you make a move and wait for your opponent (e.g., competitor, technology, business climate) to move. This book is why I teach that strategy should be formulated at least quarterly.
8) Clarity First: How Smart Leaders and Organizations Achieve Outstanding Performance by Karen Martin
You may remember my blog post The 8 Biggest Wastes in the Business Office. Lack of organizational focus throughout the hierarchy is number one. This insightful and practical book articulates a remedy: achieving clarity by developing what Martin calls the 5 Ps, or purpose, priorities, process, performance, and problem-solving.
9) Measures of Success: React Less, Lead Better, Improve More by Mark Graban
This recently published book is one of the most concise and understandable volumes I've ever read on metrics and behavioral control charts. In business processes especially, there's so much variation that business leaders waste too much time on noise or do the wrong thing in chasing metrics they don't understand. Measures of Success walks you through when to react to data—and, more important, when not to react.
10) Leading Change by John P. Kotter
Last on the list is this fantastic book on change management, which prescribes how to change your organization in eight stages. Its universal methodology overlaps and gives new perspective on some of the philosophies outlined above.
Take this list of 10 and add a couple of historical novels and detective mysteries, and you'll be up to speed on some of my favorite things. And if you're inspired about making real change in your business office, there's still time to register for Lean Applied to Business Processes, which runs Sept. 23–27.
I hope you have a productive and enjoyable rest of the summer!