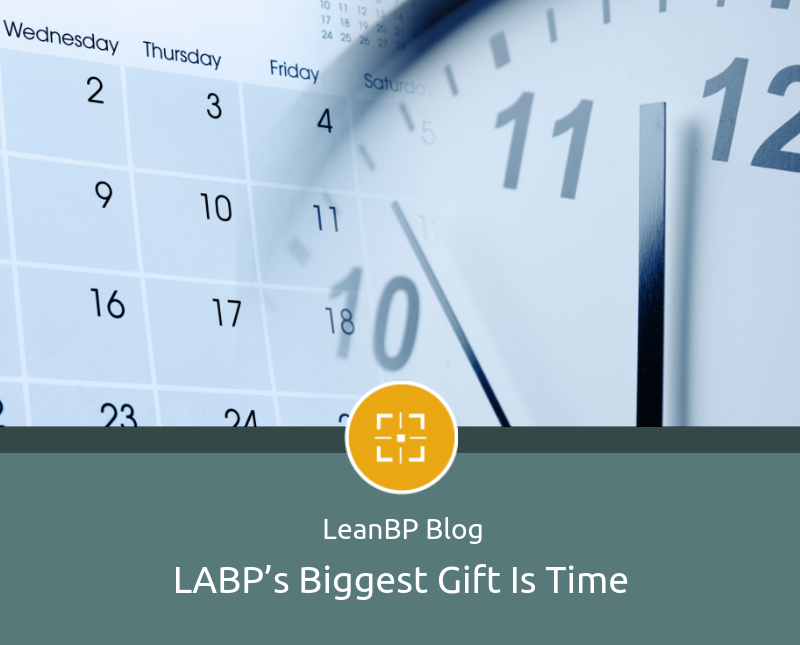 How are you coming along with your end-of-year initiatives? Are you realizing noticeable gains, or are you getting bogged down with too much work in process? Do you feel calm about where you're headed, or are you already in crisis mode?
You don't need more people to achieve your goals; your people need more time.
Time is the real reason to make an investment in applying lean to your business processes. It's the benefit that yields even more benefits. Recouped time can accrue to the organization as a whole and to you as an individual.
How would you invest that return to make an even greater gain?
We all get accustomed to using time in ways that don't contribute meaningfully to our goals.
Sometimes, we get so wrapped up in putting out fires that we forget there are other options. We could all use time for personal or professional growth. We could take time to be proactive, to be creative, to innovate and work on game-changing initiatives, or simply stop putting in overtime and go home at five. Time's worth is what we make of it.
Back to those yearly organizational initiatives, which are like extra projects without the extra time to complete them. Doesn't it always seem like the daily routine and crisis management take up most of your week?  It's too bad, because well-thought-out and strategically aligned initiatives can be transformational, and using the LABP methodology to eliminate wastes frees up the time to accomplish them. Think about all the ways it could make an impact on different business functions:
Finance. If you reduce the time it takes for routine reporting, not only could you make end-of-month closing earlier and smoother, but you would also create more time for financial analysis that makes an impact.
Accounts receivable.  Here, extra time means money. Reducing the time to create and send invoices by three weeks is a one-time infusion of cash equal to three times your weekly revenue.
Purchasing. If you spent less time on reactive buying and expediting, you'd have more time for forecasting.
And so on. Also, it doesn't matter what industry you're talking about. Lean tools may have been designed for manufacturing, but LABP adaptations work marvelously well across many fields to free up time. (And money. One client, while working to improve the process for its offshore workforce, streamlined the time and cost of the process so much that the company was able to bring the work back in house.) Here are more cross-industry examples:
Education. One of our college clients at the University of Tennessee increased crisis counseling capacity by 700 sessions a year, with zero wait time, and was able to add group counseling as a result. In the athletic department, the school improved program quality while reducing the time necessary for NCAA compliance. On the facilities side, the school was able to reduce response times for dormitory upkeep, decreasing work orders by 44 percent and increasing student satisfaction; similar results were achieved at other campus facilities.
Another university increased student engagement by cutting the lead time and touch time for registrations by 70 percent. It also improved its rankings for its MBA programs by reducing lead time for admissions, improving its career placement and smoothing out its operations.
Aerospace and defense. We've seen aircraft engineers reduce the lead time for engineering change orders by 50 percent, allowing for the implementation of even more money-saving engineering changes. A technical publication reduced change time requests by 80 percent, getting good engineering ideas out there faster.
A U.S. Air Force flying wing using lean on its maintenance supporting processes achieved the highest aircraft maintenance capability rate in 29 years.
The Air Force also cut major acquisitions time (requests for proposals and contract awards) by 50 percent, allowing time for market research, negotiations, and spending within the fiscal year.
On the contractor side, answering those requests for proposals and providing contracts in half the time produced a more competitive bid.
Telecommunications. A telecom company was able to install connections in 25 percent less time, reducing the backlog of installation and improving customer satisfaction. Another company cut IT rework by 30 percent, increasing the volume of projects completed.
Insurance. One firm was able to onboard new employees in 70 percent less time and grant security clearances in 80 percent less time, making new employees feel welcomed and creating a sense of urgency.
Clearly, for organizations, time means money, capacity, and improved performance. But for you as an employee, it has similar benefits. LABP methodology can help you improve your personal productivity and give you a sense of renewal—what's known as sharpening your saw, as Stephen R. Covey puts it in The 7 Habits of Highly Effective People: Powerful Lessons in Personal Change.
By limiting multitasking, optimizing WIP, organizing the workplace, and establishing a repeatable, visual best practices checklist, you can save hours per day to be proactive, rather than waiting until the end of the year and compromising quality and content to get initiatives finished. Instead, complete your work on time and document your accomplishments ahead of your next personal evaluation. And spend your recouped time on something that helps you grow.
What could you do with just a little more precious time?